Thrift With Us: Our Favorite Luxury Vintage Shops in Paris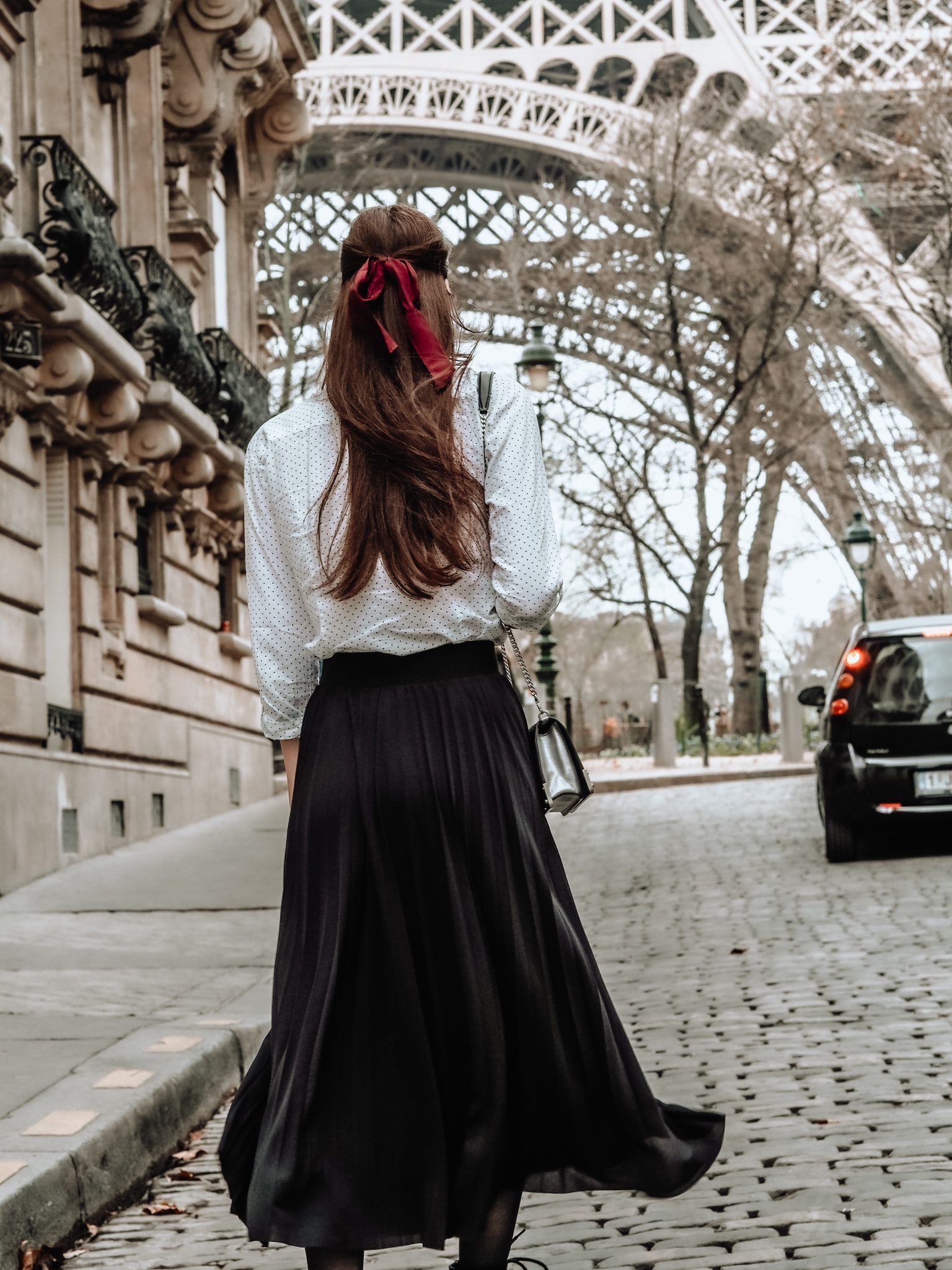 The art of thrifting is nothing new to the fashion world. We as human beings have always had an instinctual longing to adorn ourselves in vintage. People have been borrowing from the past since there was a past distant enough to reminisce upon.
However, the purpose of thrifting has been redefined in recent decades. With fashion industry today claiming the position as the second most polluting industry in the world, second-hand shopping has come to be viewed as less of a creative hobby and more as a saving grace.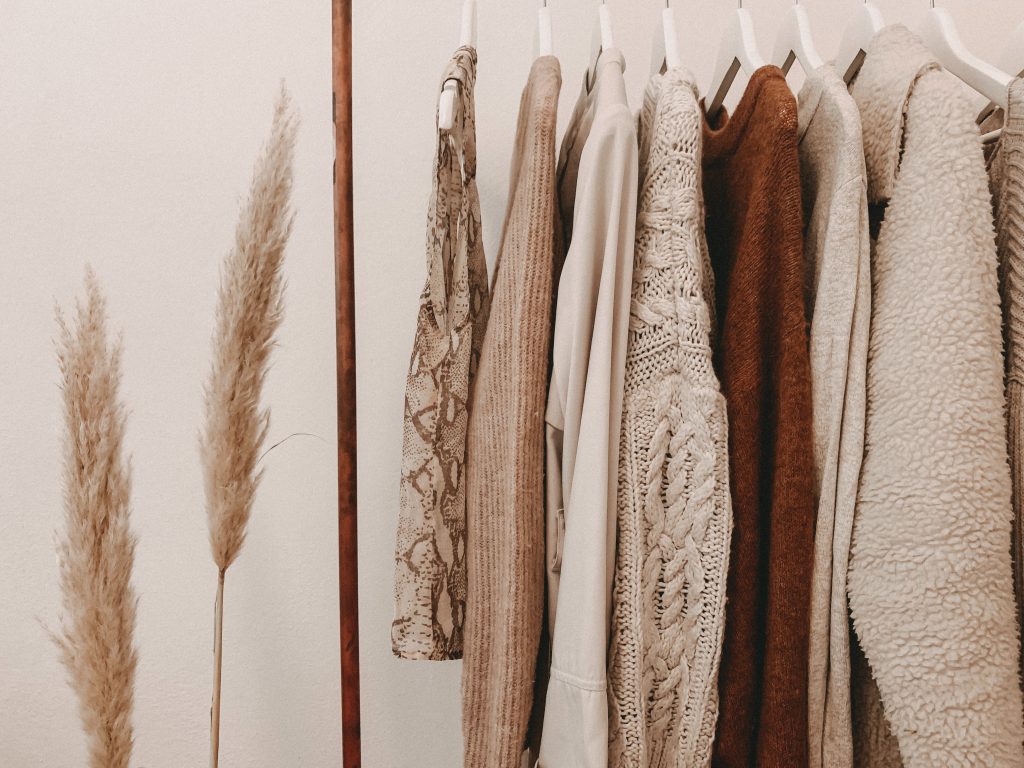 While there are many brands today who offer first-wear sustainable clothing, the process of seeking out and purchasing from these brands can be time-consuming and expensive. There is no surer, simpler or eco-friendlier way to shop sustainably than thrifting. If you are lucky enough to be in Paris, the options for second-hand shopping lie around nearly every street corner, and come at a range of prices and styles accessible to nearly every consumer.
There are so many options, which is why we compiled a second list of our favorite thrift destinations in Paris. We hope your wardrobe and conscience will be left a bit brighter after indulging in this list of the chiquest thrift destinations in the city of fashion.
Le Depot Vente De Monica – 171 Rue de Grenelle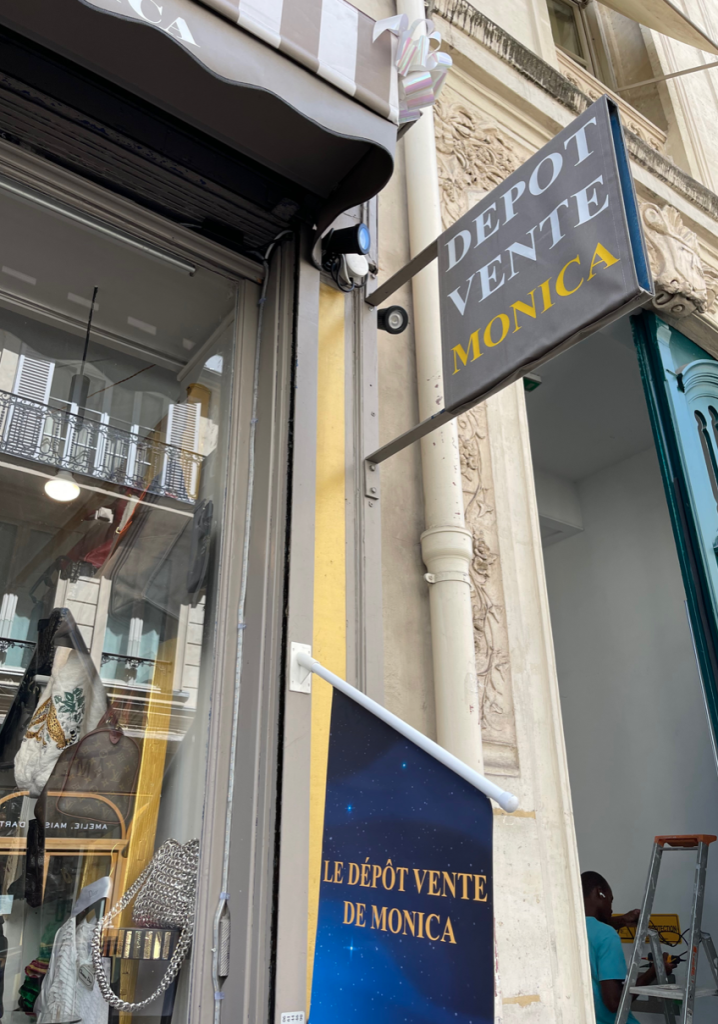 This cozy little shop is bursting with color and light. Their higher-end collection features a noteworthy assortment of designer bags and purses, shelves of hats and berets, racks of colored denim, chunky statement earrings, and diverse styles of shoes–from heels to sneakers. There is a little something for everyone to be found here, especially if you're looking to encapsulate the summer sunshine with a few colorful standout pieces.
Débardeuse vintage store – 16 Rue la Bruyère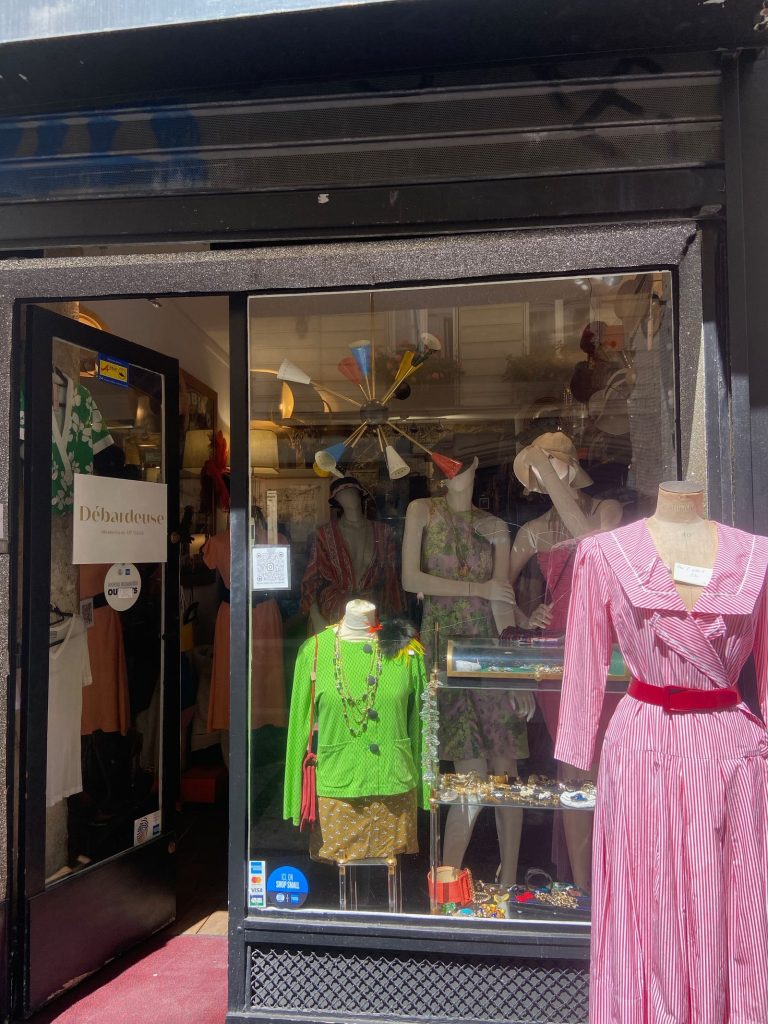 To step into Débardeuse is to step into the dreamy high-fashion world of decades past. This well-curated vintage shop carries a collection of both recognizable high-end brands as well as dated designer brands which are no longer in business (making certain no one will wear the same top as you!)
The mannequins posed across the interior show off funky patterned head scarves, fitted linen dresses, glistening strings of pearls, flirty neon leather, and even finely crystalled high-fashion evening gowns. The shop is also neatly organized and sorted by category, with years and sizes conveniently noted on each label, making it easy to locate the perfect items for you.
Tilt Vintage – 10 Rue Saint-Placide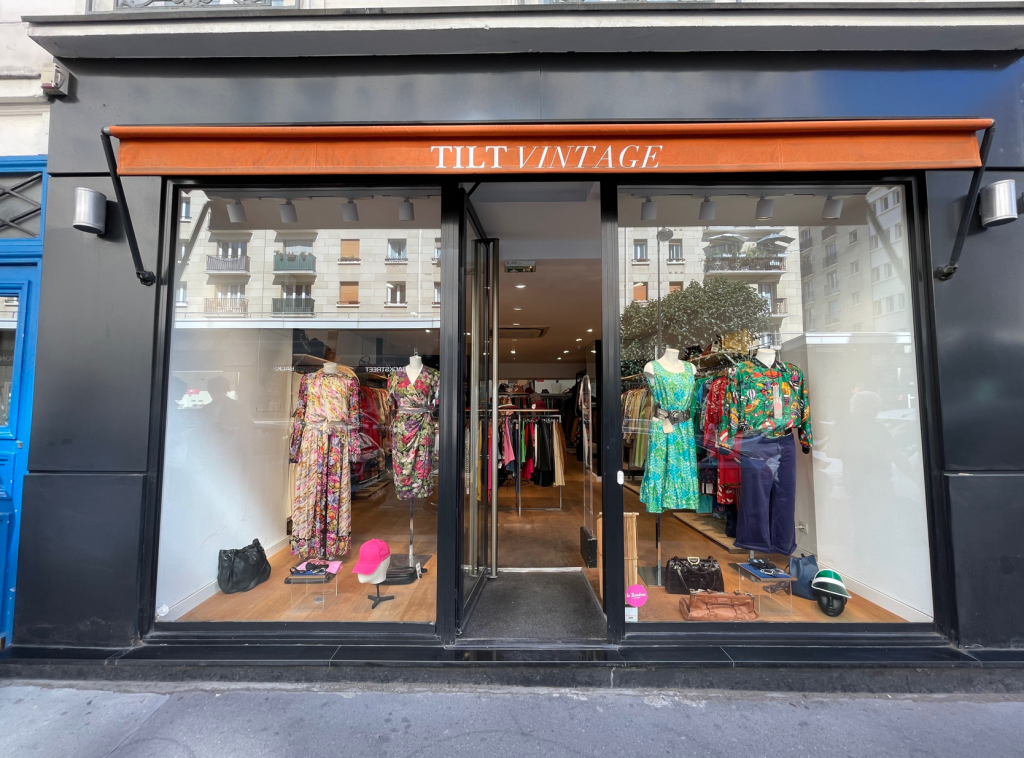 The eye-catching bright orange sign which bears this shop's name is certainly not misleading. Inside, you'll find a well-lit open space harboring a collection of garments just as eccentric and bright. A sift through both the men's and women's section will reveal patterns galore, everything from feminine floral dresses to tropical beachy button downs. The collection is impressively organized and even color-coded, simplifying the process of finding your ideal shade or pattern. This particular curation is mostly made up of affordable brands, and the prices range anywhere from €20- €60. We highly recommend stopping by Tilt Vintage for a weekend on the water or at the beach!
L'ibis Rouge– 35 Boulevard Raspail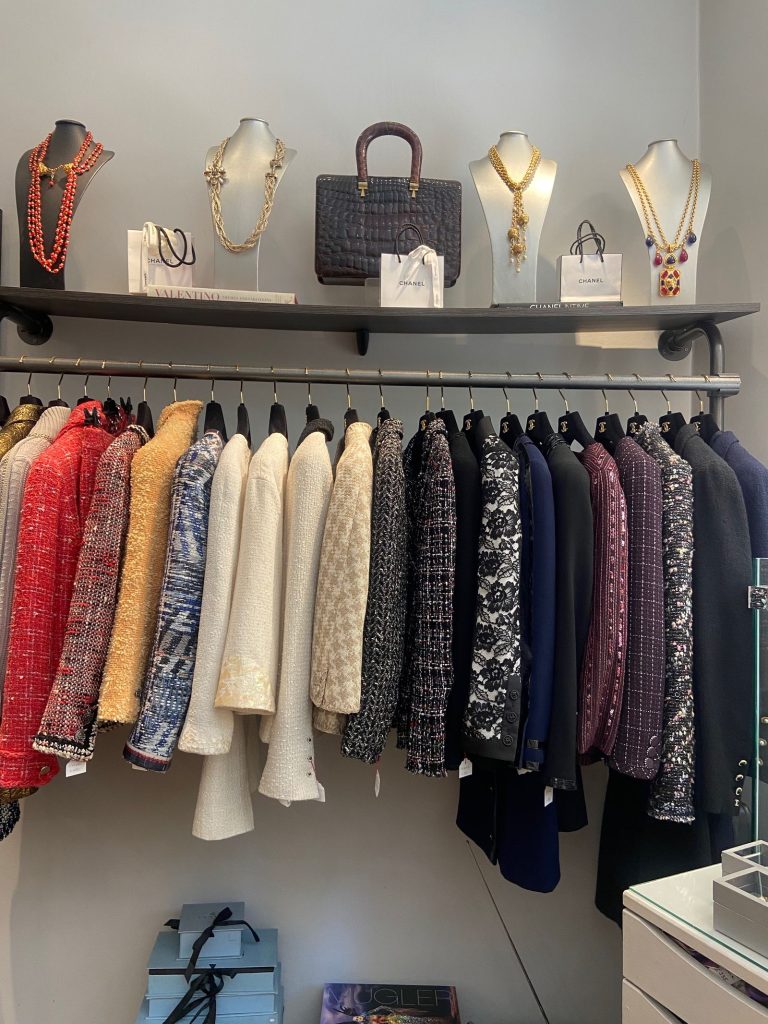 L'ibis Rouge is one of the most selective, narrowly curated shops on the list, and is littered with unique treasures. Carrying exclusively high-end brands, it is a great place to search before big events or special occasions. Though the shop may be small, it is overflowing with big names, most notably Chanel, whom an entire rack of blazers and overcoats is dedicated to.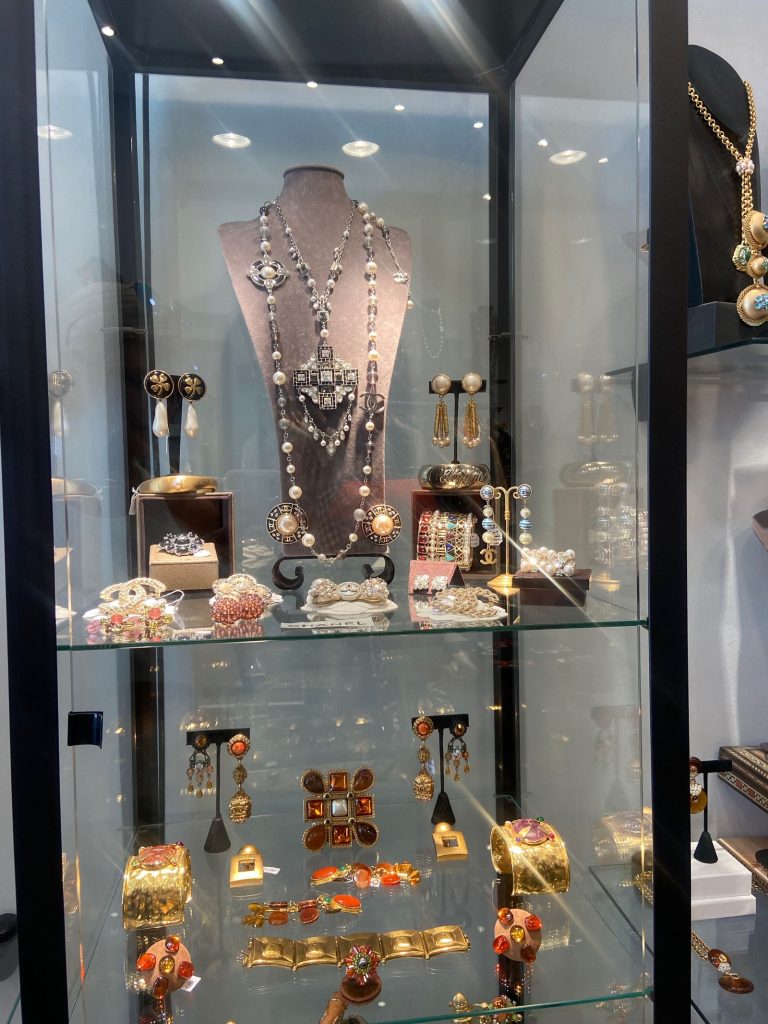 We may have been most charmed by the rare jewelry collection, carrying one-of-kind pieces from brands such as YSL, Dior and– of course– Chanel. While the prices are on the higher side, they certainly reflect the rarity of the carefully selected pieces, each one a true investment that will (and has) stood the test of time!
"Thrift is poetic because it is creative; waste is unpoetic because it is waste." ― G.K. Chesterton
While we understand that the venture shopping sustainably can be intimidating, combing through stores like these is a cheaper, simpler (and fun) way to respect the environment while indulging in the thrill of fashion. We hope you enjoy your luxury vintage tour through Paris!