Impari: Berlin's Beacon of Sustainability
Navigating the dynamic realm of fashion, brands that successfully merge tradition with innovation are few and far between. Impari, crafted by the Berlin-based designer Jana Heinemann, is one of these rare finds. This brand challenges norms, pairing traditional craftsmanship with forward-thinking sustainability efforts, all while championing individual style. In a sea of sameness, Impari sets itself apart, carving a distinctive path within the fashion industry.
Who is Impari?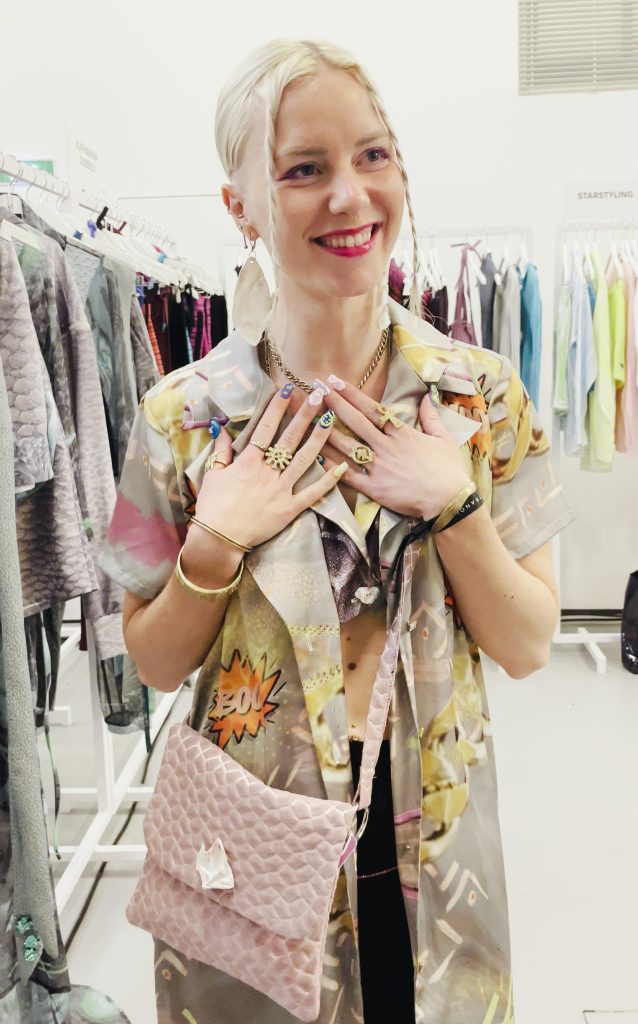 Jana Heinemann, the visionary behind Impari, is a creative designer. Her journey began at the Hochschule für Technik und Wirtschaft in Berlin where she dedicated four years (2018 – 2022) to honing her skills, earning a Bachelor's degree in Fashion and Clothing Design.
Her brand Impari was founded in Berlin during these studies in 2018, and it stands as a testament to the vibrant creativity that pulsates through the city's fashion scene. Operating from her atelier nestled in the heart of Friedrichshain, Heinemann crafts collections that are a mélange of daring prints, vibrant colors, and innovative materials.
However, Jana's vision goes beyond the realm of fashion. She seeks to weave a tapestry of connection between individuals through her creations. She believes her art can illuminate the richness of diversity in the world, fostering a sense of unity and shared human experience.
Fall/Winter Collection at Paris Fashion Week
Impari's latest collection is an exploration of translucence and vibrancy. With striking metallic hues and a dominant palette of lush greens and ethereal violets, each piece of the collection emanates a dynamic aura.
The designer's inspirations are rooted in human connection, especially those nurtured within the thriving art scene of Berlin. She draws vibrant inspiration from other artists too, such as South African designer Rich Minsi, renowned for his exuberant and colour-drenched artworks.
The crown jewel of this season's collection is a standout unisex, all-inclusive dress. Featuring Impari's signature prints and adaptable stripes for a customisable fit, this piece is designed to celebrate individuality and inclusivity.
The dress's kinetic beauty was a spectacle at the Tranoi show. As it billowed and rippled, it captured the attention of every onlooker, demonstrating the brand's dedication to creating statement pieces that are as captivating in motion as they are on the hanger.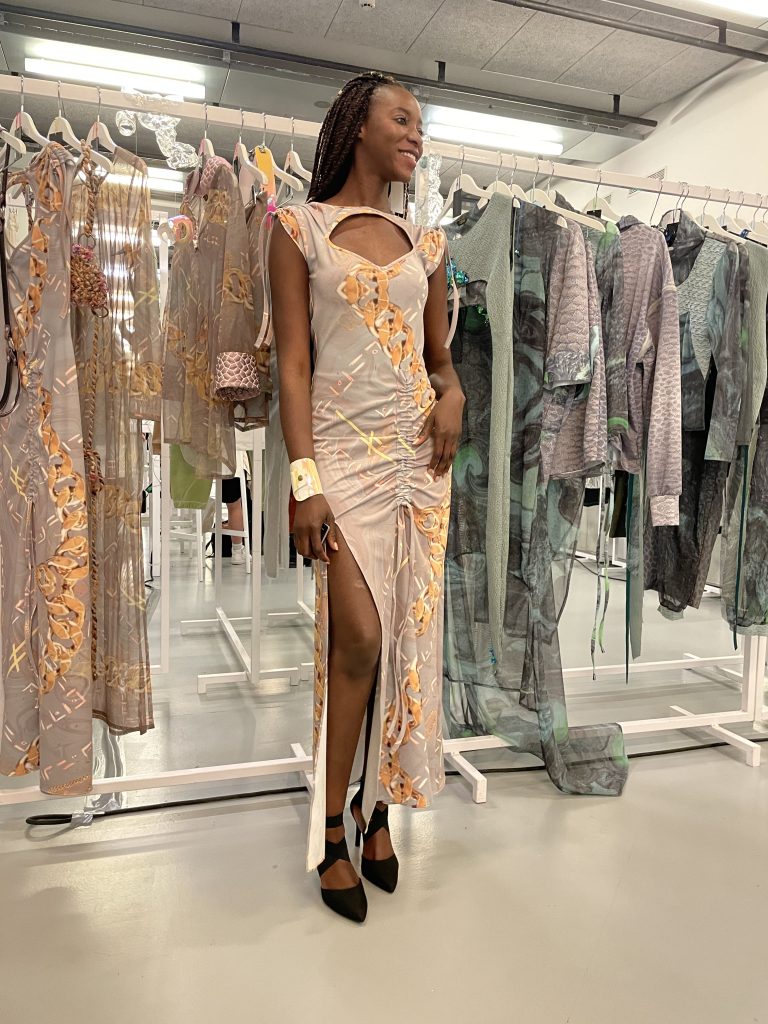 Towards the Future. Sustainability
Impari, under Jana's visionary leadership, emerges as a champion of conscious living and individualism, radiating a passion that goes beyond fashion. Choosing Impari means not just embracing a distinctive style, but also supporting a brand committed to eco-consciousness and global positivity.
Jana staunchly adheres to a zero-waste policy. The remnants from each collection breathe new life into the next, transforming waste into creative inspiration. This zero-waste pattern cutting approach is an emerging trend that maximizes fabric usage, yielding both ecological and economical benefits.
In our conversation with Jana, two words resonated deeply – 'sustainability' and 'social'. These concepts form the core of her brand's ethos, and they echo through every aspect of her work. Through her unwavering commitment to these principles, Jana and Impari continue to set a powerful precedent for the future of fashion.